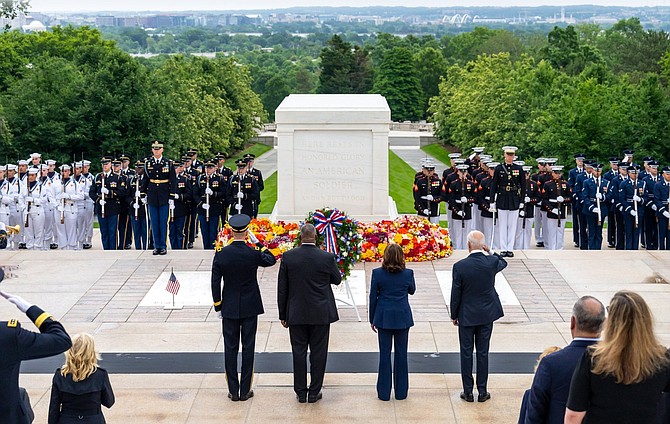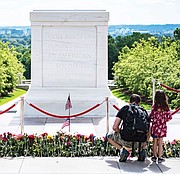 President Joe Biden paid tribute to the nation's fallen heroes as part of the Memorial Day ceremonies May 29 at Arlington National Cemetery.
"Today, we recommit to the future that generations of servicemembers died for," posted Biden on social media. "It's on all of us to ensure their sacrifice was not in vain."
As part of the ceremony, Biden placed a wreath at the Tomb of the Unknown Soldier. He was accompanied by Vice Present Kamala Harris and Secretary of Defense Lloyd Austin.
"Every year as a nation, we undertake this right of remembrance, for we must never forget the price that was paid to protect our democracy. We must never forget the lives these flags, flowers and marble markers represent," said Biden. "A mother, a father, son or daughter, sister, spouse, a friend, an American – every year we remember, every year it never gets easier."
Chairman of the Joint Chiefs of Staff Gen. Mark Milley joined Austin and Biden in delivering remarks honoring those who have died in service to the nation. More than 3,000 people were in attendance at the ceremony, including First Lady Jill Biden and Harris' husband Doug Emhoff.
Biden used the occasion to note the anniversary of the death of his son Beau Biden.
"Tomorrow marks eight years since we lost our son Beau," he said. "Our loss is not the same – he didn't perish in the battlefield, it was cancer that stole him … after being deployed as a major in the United States Army National Guard in Iraq. As it is for so many of you, the pain of his loss is with us every day, but particularly sharp on Memorial Day."
Following the ceremony, Biden noted the occasion on social media, saying, "This Memorial Day, we once again gathered at the sacred Arlington National Cemetery to honor our fallen heroes. We stood amid the rows and rows of marble stones and bore witness to the brave women and men who served and sacrificed for our freedom and for our future."
More like this story