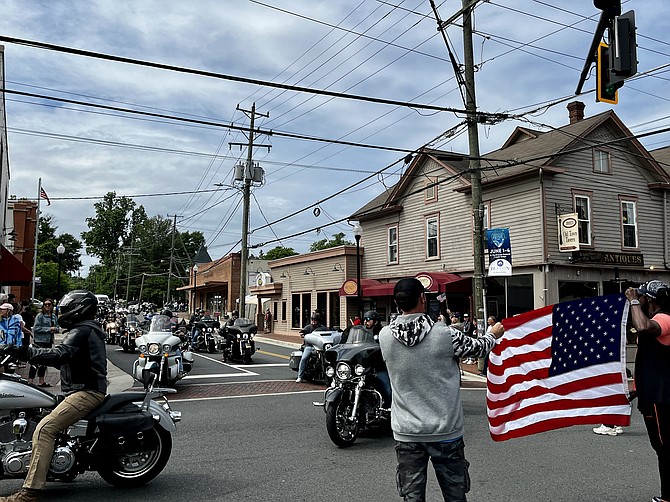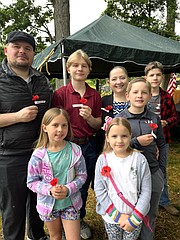 Memorial Day, the last Monday in May, is generally three weeks before the summer solstice but still recognized as the unofficial beginning of summer. The weather is usually warm, and it is a three-day weekend for many.
In Fairfax County's communities and city and town jurisdictions, pools are open, and the smells of barbecues and the chatter of people having fun reign in backyards and public parks. 
And Memorial Day is, as the Rotary Club of Vienna writes in its ViVa! Vienna! Memorial Day Weekend Festival guide, when "we need to honor the sacrifices made and dedication shown to something larger."
Here is a snapshot of five events held Memorial Day weekend in Fairfax County.
Friday evening, May 26, Town of Herndon: 
Volkswagen Group of America presents Friday Night Live! featuring the Royals in the historic downtown behind the Herndon Municipal Center, 777 Lynn Street, from 6 to 10 p.m. Except for Friday, June 2, due to the Herndon Festival, bands will play for the 16-week summer season, which wraps up with Social Call on Aug. 25. The series is sponsored by the Dulles Regional Chamber of Commerce, the Town of Herndon, and others. Funds raised at some booths help support the local FCPS Al-Night Grad Party. 
Saturday afternoon, May 27, Reston: 
Most of Reston Association's pools are open, and its lakes and watersheds offer quiet enjoyment. Adding to the two Reston Association pools that opened on May 13, nine open Memorial Day weekend. The remaining pools will open when Fairfax County schools are closed for the summer. According to Laura A. Kowalski, director of recreation and environmental education at CPRP and AFO of Reston Association, they welcomed 140 staff members at their lifeguard orientation earlier this month. "We still need lifeguards; all are welcome to join us, and we train," she said.
At the North Shore Recreation Area and pool, Hayden, 8 of Reston, enjoys the 82-degree heated water with her mom. "I like this pool; it's warm and has a diving board," Hayden says.
In a shady green space and stream at the North Shore Recreation Area, backs of a pair of people can be seen as they share the porch swing. Meandering paths provide a view of the stream with turtles basking on wooden turtle rafts. "This is my grandpa," says Linda Vallejo of Reston, one of the pair on the swing. "He moved here a few months ago from New Jersey and lives with me now." His name is Daniel Coello.
Saturday 10 a.m., May 27, Town of Vienna: 
The Rotary Club of Vienna's annual ViVa! Vienna! charity event opens 
People crowd the blocked-off streets in the historic downtown for the three-day celebration and the Memorial Day Service on May 29. With its partners Navy Federal Credit Union and the Town of Vienna, the club launches its signature event, the free weekend festival, May 27–May 29. It is open to all to attend and caters to families.
ViVa! Vienna! features a diverse range of attractions, including vendor booths and stage performances, ticketed carnival rides, a food court, and the BrewFest Beer Garden on Mill Street.
According to the Rotary Club of Vienna's Facebook post, Memorial Day, to be held Monday, will pay respects and honor American heritage by remembering the country's "heroic dead of all wars."
"This event takes a tremendous amount of planning," says Kurt E. Sayce, club president. It has 186 vendors, which are made up of small businesses, big businesses, and nonprofits. He estimates crowd attendance at the three-day event at 45,000 people.
"We had 25 different food choices, not counting what Cole Amusements had around the rides. We recorded 315 volunteer shift sign-ups and another 50 shifts where people just stepped up without signing up. That is almost 1000 hours of human capital. We had 24 different acts for entertainment featuring local and regional talent. Virginia Living rated the event #1 in the 'Best of Living and Recreation' in NoVa. Money raised from this event is on track to exceed last year's $180,000, but by how much, I don't know yet. Proceeds go to local charities and twenty percent to international charities," says Sayce.
Sunday 9 a.m., May 28, Town of Herndon: 
Motorcyclists slowly roar down Elden Street for Jimmy's 26th Anniversary Party and Memorial Day Weekend Bash. They will ride to D.C. together to pay respects at the Vietnam Veterans Memorial. 
Following a complimentary breakfast, opening remarks set the day's tone. "Let's start with a moment of silence and not forget what today is all about," says Jimmy Cirrito. "We'll leave Jimmy's and head straight to the Vietnam Memorial."
Comments: Why are you here this Memorial Day?
* "In memory of my grandfather, Andrew Karol, who served in the U.S. Army." - Loving grandson, John Karol
* "In memory of my father, Norman Derryberry, USAF. - Loving daughter, Terri Karol
* "Honoring all U.S. service members past and present." - Steve Lindwood
* "[In memory of] Doug Nelson, Airforce; A. John Oakley, Army; and Charles Raba, Army. -Maureen and Jim Raba, US Navy helicopter pilot, "Seawolves," river patrol in the Mekong Delta
The rubber hits the road at 10 a.m. as sixty-some motorcycles with approximately 80 riders pass by a U.S. flag held high across Elden Street. The motorcyclists roll through the town two-by-two, cruising toward Great Falls and the George Washington Parkway. They end at the Vietnam Veterans Memorial, honoring and remembering the war dead. Later that afternoon, they return to Jimmy's for live music, food and drinks, lasting until the early hours of Monday, Memorial Day.
Monday morning, May 29, Town of Herndon: 
The 10 a.m. Memorial Day Observance by the Town of Herndon and Herndon-Reston American Legion Wayne M. Kidwell Post # 184 at Chestnut Grove Cemetery is on. 
Heavy rains prevent Post members from raising the Avenue of Flags to honor fallen U.S. veterans from Herndon. The 66 casket flags loaned to Post 184 by the families of veterans will be kept safe and dry until Nov. 11, Veterans Day. According to Christine Cutler, adjutant of Post 184, small parade flags form a mini-Avenue of Flags at Chestnut Grove Cemetery, and the name signs are posted.
"We, at the post, consider this a very important event in strengthening the community. We have learned from the past that we will do this rain or shine in some form or fashion. And we continue to seek better ways to do that because we value it so highly," says Post Commander David Womack.
Vice Admiral Jeffrey Trussler, Deputy Chief of Naval Operations for Information Warfare, N2/N6, Office of the Chief of Naval Operations/Director of Naval Intelligence, will deliver the keynote address. His message: "How appropriate it is that we have ceremonies like this. They are a part of small towns and small communities because that's where the people who died in the service of our country came from."
Trussler explains how people were removed from war in the 1990s and the War on Terror. For those who had experienced previous wars, it hit close to home. World War II ravaged the economy. It shattered the national way of life. That no longer takes place. "We don't even raise taxes at all, even just to fund a war," Trussler said.
Trussler said: "In World War I, one in 300 servicemembers died; in World War II, one in every thousand servicemen died. In Korea and Vietnam, it was about 1 in 4000."
Trussler adds, "If you go to any small town in America, they have a small plaque; they have a small statue from those early wars, World War I and World War II, that lists the names because they knew them. … Somebody in that town knew them, and those plaques and those memorials still exist. It's appropriate we remember those people," Trussler adds.
Dan and Michell Marcinak, of Herndon, are in the crowd with five of their eight children." The children wanted to be here," says Dan. "They understand its meaning, and it is a tradition."