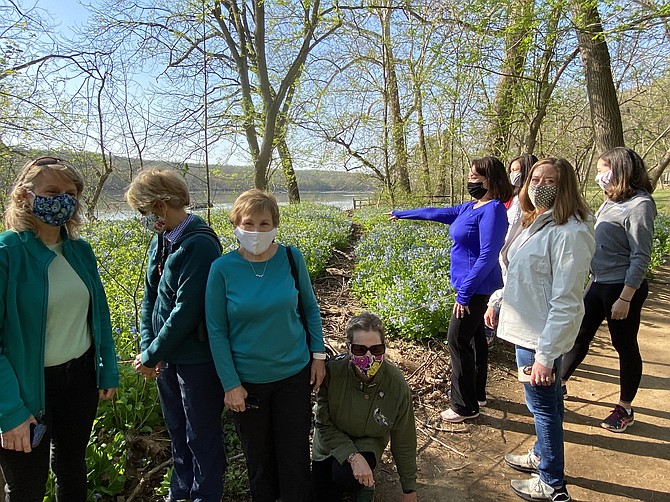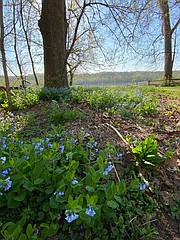 Tucked away in a remote setting of the floodplains along the Potomac River, Virginia bluebells made their ephemeral appearance just in time for the Bluebells & Bald Eagle Tour organized by Great Falls Friends and Neighbors Philanthropy Group. Held at Riverbend Park in Great Falls, the April 7 event benefited Friends of Riverbend Park (FORB).
"We're sold out already," said June Kelly, Vice-President of GFFN Philanthropy, a half-hour before the tour started. Kelly said proceeds generated from ticket sales along with donations totaled $4,000 as of that morning. Kelly called out the generous $500 sponsor of the event, Roy Melloni, Vice President of TTR Sotheby's International Realty based in McLean.
"In a COVID year, GFFN Philanthropy has far exceeded our expectations in generating funds for all of our chosen charities," Kelly said.
The branched and arching stems of the native Mertensia virginica (Virginia bluebells) bore distinctive terminal clusters of blue, bell-shaped flowers. They carpeted en masse, wandering the shaded, moist woodland floodplains of the Potomac River, much to the delight of tour participants.
Julie Casso, the President of GFFN, learned that Virginia bluebells die off in the early summer, leaving blank garden spaces when dormant. Not deterred, Casso and tour participants made their way to the Bluebell plant sale table. It proved a hit. The vendor-grown Mertensia virginica plants quickly sold out.
Tom Blackburn is a Fairfax County Park Authority volunteer. He said that tour participants could hopefully enjoy a view of the Bald Eagles' nest on Minnehaha Island in the Potomac River. Two young eagle nestlings hatched approximately four weeks ago.
"We'll set up telescopes so tour participants can view (parents) Abe and Abby. I could see the two eaglets last week even with binoculars," Blackburn said.
Riverbend Park is located at 8700 Potomac Hill Street, Great Falls. It is a natural resources park, first established in 1975 along the Potomac River in Great Falls, Virginia. The park encompasses over 400 acres of woodlands, trails, riverfront, and wildlife.